February 27th, 2013
I just returned from the Wisdom 2.0 Conference in San Francisco. What an awesome experience. I am filled with new insights, inspiration, hope, and overwhelming evidence that a "course correction" is in the works. Some 25 percent of corporations are incorporating mindfulness into their organizations.
The increasing, ever-enabling technology has been a gift to us in so many ways. We are able to have more relationships, to do more, and to do it all without restraint of time or geography. Many of us are "on" and plugged in 24 hours a day, seven days a week.
The down side is that it's getting harder to unplug and to be present during areas of our life that are important and meaningful to us. Our phones have become like what Alone Together author Sherry Turkle calls "phantom limbs." We are so distracted by our devices.
Wisdom 2.0, founded and organized by Soren Gordhamer (author of Wisdom 2.0: Ancient Teachings for the Creative and Constantly Connected, and a mindfulness leader who, as project director for Richard Gere's public charity, Healing the Divide, organized the Healing through Great Difficulty Conference with his Holiness the Dalai Lama), is an event that brings together thought leaders who, through interviews and presentations and engaging conversations with those in attendance, attempt to answer: "How can we live with greater presence, meaning, and mindfulness in the technology age?"
The conference beckoned me because it converges all of the areas that I'm most interested in, in my life and work: Technology, mindfulness, compassion, entrepreneurship & business, and neuroscience.
Check out Google's Meng Tan's compelling presentation. It is a short video and worth every minute of your time.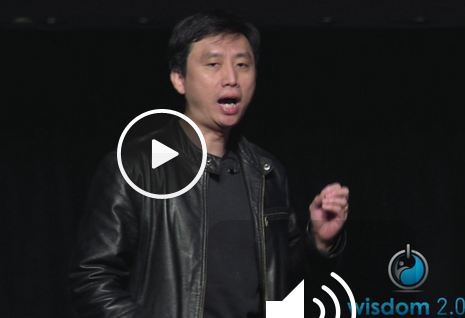 In short, Tan provides evidence that we can do very simple exercises to train ourselves to be more compassionate and charismatic. For example, he challenges us to pick two people every hour, look at them, and in our minds, wish them happiness. This takes about 10 seconds, and according to Tan, this simple act makes us energetically give off compassion, which spreads to those around us.
I was so moved by the presentation that I shared the video with my husband and our three sons, who are ages 5, 10 and 12, the first morning after my return. Then, that evening, during dinner, everyone shared that they in fact did that, and that it felt good to do something that might benefit others.
I will be blogging more about the presentations and insights I gained from the conference over the next several weeks, so I hope you'll check back often.
Thanks for reading my blog, and for stopping by Epic Life.