July 17th, 2016
I just returned from one of my most memorable and meaningful experiences in my backyard, Wind River Country. As I write this, I am basking in the memories of an overnight backpacking trip with my 18-year-old niece and Goddaughter from the Dallas, TX region. (Daylia is the oldest child of my younger sister, Amber.)
The adventure started early on July 14 when I fetched my Daylia from my parents' house at 5:30am. Our destination: Island Lake in Upper Silas Canyon.
This would be a trip of so many firsts for Daylia. It would be her first time backpacking. It would be her first time to sleep in a tent. It would be her first time to start a campfire. It would be her first time to climb a mountain. And as for me, it would be my first time to take my Goddaughter on an epic adventure. This was a big deal that we had talked about a lot in the past, and finally the dream was coming true.
Daylia, who is very fit, had mentioned a few days before the trip that she expected to carry her share of our load, and for her backpack to feel legit. It did. It weighed about 32 pounds.
As someone who hikes about 1,000 miles a year in Wind River Country, and who leads a number and variety of epic adventures, I did not take lightly this opportunity to provide my Goddaughter with her first wilderness experience. I hoped to provide an unforgettable experience for my Goddaughter, and maybe – just maybe – this experience would convert this city girl into someone who might want to do more of this in the future. (Maybe the title of this blog post could be The Making of a Backpacker.)
After listening to part of a Ted Radio Hour podcast episode called, Champions, featuring the story of Amy Purdy, and her triumphant comeback from the brink of death to making history as a Paralympic snowboarder, we jammed out to Let the Rhythm Just, by The Polish Ambassador, and arrived at the trailhead pumped and ready to go.
It was a beautiful morning with the sun just up. The trees reflected perfectly in Fiddlers Lake as we started down the trail and into our adventure.
Daylia is extra special to me because she is my Goddaughter. I remember flying to Texas when she was about 6-8 months old, and snuggling and playing with her almost constantly. From the beginning, she had a charming personality and an inquisitive way about her. I have this vivid memory of her being contained in the middle of the queen sized bed in the guest room I was staying in, and her being propped up against a big pillow and using her hands as she talked (cooed) to me in an adorable language I couldn't understand. The one thing that I did understand during that moment was that time with her inspired me to really want to be a mother.
Now look at her. 18 and all grown up. She starts college at the end of August, and will begin her studies and work to become a Physician's Assistant.
As we headed down the trail, at first we were quiet. I didn't start in with the conversation right away. I like to provide space and a bit of solitude for whomever I'm leading as they settle into the cadence of moving through the forest and over the rocky trails with everything they need to sustain them on their backs and under their own power. The birds chirped and sang, and the day's new sun lit our way. Just another blissful morning in Wind River Country, I thought to myself.
At the signed junction with the Christina Lake Trail, we removed our packs, and drank some water before continuing toward Upper Silas Lake. As we hiked through the woods, and up and down hills, I asked Daylia how the making of a backpacker was going. "I can feel it in my butt," she said. "But at least after this, I will have Buns of Steel." We both laughed, and I agreed. Then, Daylia asked me how I first got into hiking. I waited until I wasn't on an uphill, and then shared the story about losing my Division I basketball scholarship in Year 3 of college, explaining how I found myself "without a map" after that happened. I started spending time alone, healing, reading books – and very importantly, hiking. I appreciated her asking the question because it allowed me to share a point that I have come to feel so strongly about, and around which so much of my leadership work, coaching and guiding is centered.
I explained how losing my scholarship turned out to be one of my most important and spectacular failures. I shared that I don't think life would be what it is – as wonderful as it is – and certainly we wouldn't be here sharing this adventure right now, if not for that "failure." As we hiked, I asked her about some of her failures. She shared about a failure involving running the 800 meters in track a few years back, and about another involving a violin solo that didn't go as planned. I encouraged her to look at the positives that came out of those, and to consider those events not as failures, but as events that will somehow inform her life going forward. I added, however, that it took me almost 20 years to look back at my aforementioned "failure," and to realize that it wasn't a failure after all but rather one of my greatest gifts.
At Upper Silas Lake, we took our packs off and enjoyed a 15-minute snack break on the shore. Daylia ate a healthy, yummy-looking BLT, and I ate my first Snickers bar of the trip. It was a beautiful morning. Upper Silas Lake has a big granite mountain at its upper end, and its water was as smooth and as clear as glass. Every now and then a fish jumped through its surface, and I did as I always do when this happens, briefly regretted that I didn't pack my fly rod.
Refueled, we continued up the trail to Island Lake, which we reached in good time. We found a wonderful campsite, the same one Jerry and I and our sons have camped at before. Perfect, I thought to myself. I taught her how to set up our tent and we worked together to get our accommodations in place. I also shared with Daylia that we'd Leave No Trace, and explained what that important ethic means.
After establishing our camp, we ate some lunch, drank more water, and then set out, with our lighter packs, for Thumb Lake. As far as Daylia knew, we were going to establish camp at Island Lake, and then take a quick day hike to Thumb Lake, and that would be our itinerary for the first of our two days in the wilderness.That was correct, except I also had in store some additional options…
The night before our adventure, I became curious if there'd be a mountain we could climb on our route. (I love to have people climb mountains because climbing mountains is such a great metaphor for personal development, and for being in pursuit of something in life or work.) Jerry looked at a topo map, and suggested we might be able to get up Roaring Fork Mountain from the area above Thumb Lake. We studied the maps and could see there were possibilities.
When Daylia and I reached Thumb Lake, we removed our packs and hunkered down to enjoy the views, and drink some more water and eat some dried mangoes. Daylia enjoyed her Snickers bar here, too. Wildflowers of every color were everywhere, and we both remarked at the beauty of Thumb Lake and the surrounding granite mountains with snowfields.
"I have a couple of things I'd like to propose if you're interested," I offered. Daylia, being the trooper that she is, asked me what those things were. Pointing up beyond Thumb Lake, I said we could either "go explore that lake that you can tell exists up there in that cirque, and-or we could try getting up that mountain. I pointed to the notch (what some people call Devil's Bite, or the Cookie Bite) on Roaring Fork Mountain's high ridge. Daylia has seen this bite from Roaring Fork Lake, and from our cabin, and she was impressed that it was just right there, so close to where we were. And yet not very close. In fact, from where we sat, I couldn't see a route to the notch that I would be comfortable leading my Goddaughter on, especially on her very first wilderness trip. Briefly, as I sized up our options, I was a little disappointed, but then I discovered some possible routes we could take from a second cirque up higher that, if we were lucky, might allow us to gain the ridgeline, and ultimately, the top of Roaring Fork Mountain.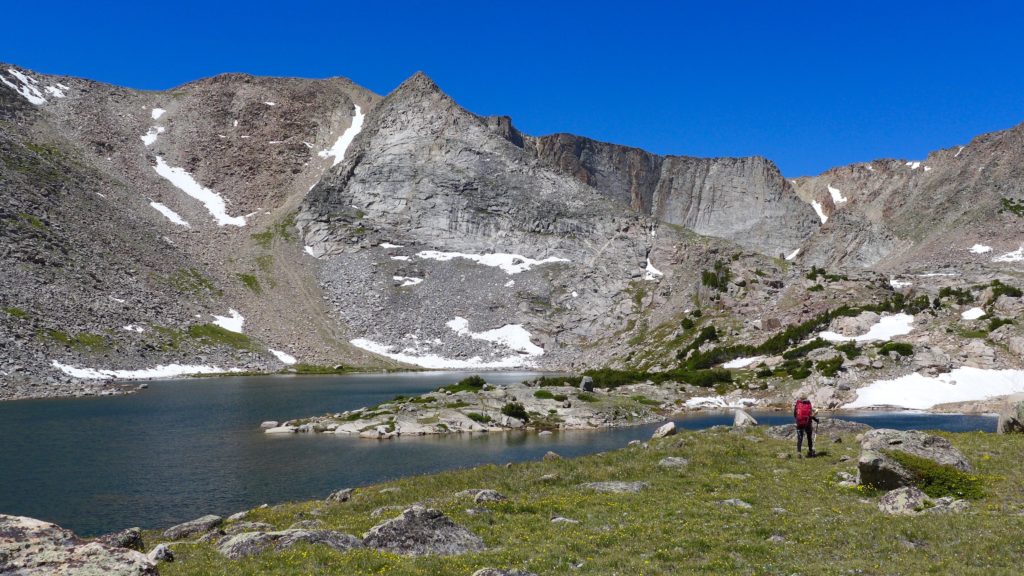 "Let's first go see the upper lakes," I suggested, and we returned to our feet and headed up. We skirted the first upper lake (which is situated in the cirque below the notch of Roaring Fork) and then crossed a huge boulder field to a spring where we refilled our water bottles, before continuing up over some snow and more boulders to the most beautiful cirque and lake we'd see up close on this adventure. There was still a huge slab of ice. The shades of green and blue around the ice were breathtakingly beautiful. Some really thin sheets of ice were sloughing off at the head of the steep cirque, which included tall and massive granite mountains that were dressed with snowfields. (Earlier in the day, I had shared with Daylia how I like to look for heart rocks and other hearts. I noticed that one of the snowfields directly above the lake's surface resembled a heart. "I spy a heart," I said. "Do you see it?" And she did.)
I shared some skills about mountain climbing and hiking up steep, often loose, terrain with Daylia, and we started venturing up a route I predicted would get us to the top of the mountain top's ridge.
Daylia was a champion! We moved together, deliberately, as I was more motherly than I probably needed to be. But she was "precious cargo!" I suddenly felt the enormous responsibility of keeping this beautiful young woman who is so special to me, and to so many, safe and in good health and spirits. We developed a system where we'd take about 20 steep uphill lunges, and then lean into the mountain, rocks and tundra to take mini breaks. During these mini breaks, I encouraged Daylia to look up, catch our breath, get our bearings and to take in the views below.
Altitude often causes people to get light-headed, and the experience of climbing a mountain can be dizzying and disorienting. Climbing a steep mountain, on a route that featured huge dropoffs into a still-ice-covered mountain lake in a steep cirque with no shore, or chance of rescue, was high stakes. I had explained to Daylia at the start of our adventure about the high stakes out here. I said what I often say to people I'm leading up the trail. "I don't mean to be dramatic, and yet I do. The stakes are high out here. If you turn an ankle or hurt yourself out here, we're hours, if not days, from help. As a result, it's critical that we are more deliberate about where we place our feet, and what we choose to do or not do." This right here is a case in point, I thought to myself as we climbed up this steep mountain, little section by little section, and with such focused attention and great care.
"Look how far we've come already," remarked Daylia, as we were about halfway up the mountain. I acknowledged that fact. In fact, in my humble opinion, that is one of the greatest values of climbing a mountain – taking time to look back and down and acknowledging your progress so far. It can be inspiring, and provide inspiration for continuing.
Soon, we saw the end of our climb. "It's right there," said Daylia. "We have to make it now." And make it we did. As we gained the ridge, we were speechless. Before us was a panoramic view filled with a range of tall granite mountains, including Wind River Peak, and Lizard Head in the distance. Below us were the main lakes of the Stough Creek Basin. While accessing the mountaintop this way was a first not only for Daylia, but also for me, the top of the mountain was as I remembered it from the time Jerry and I had accessed it from Roaring Fork saddle a few years ago – rolling, littered with a googolplex of rocks.  
We quickly bundled up with our warmest layers and puffy coats, hats and mittens. We hugged and gave each other high 5's and each snapped photos from different vantages, as well as some selfies of the two of us, "victorious" on top of Daylia's first mountain, and on top of our first mountain climbed together. I watched as Daylia soon hunkered down behind a boulder that was the size of an SUV's bucket seat to get out of the chill of the high winds.
We stayed about 20 minutes before deciding we wanted to start down if for no other reason to get out of the cold and the wind. We took about 20 steps below the summit on our descent, and it was suddenly hot and still again. We de-layered and returned to our summer attire, and talked excitedly about what we had just accomplished and seen. We were both giddy about – and proud of – our accomplishment. "I don't want to steal our thunder, but, as a world-class climber (Phil Powers, Wyoming's only man to climb K2 without oxygen) once told me, the summit is only the halfway point. Most injuries happen while descending, so even though we're excited and we summited, we need to pay even more attention going down." Daylia, now a backpacker, and 'Epic certified,' understood and agreed.
Before we knew it, we were back at the spring from which we had refilled our water bottles at hours before, and walking across van-sized boulders toward Thumb Lake. It was a glorious day. Until now the sky had been cloudless and certain, and as blue as my Goddaughter's eyes. Now, there were some clouds forming in the sky, but they were of the harmless variety – not tall, pure white, spread out, and shaped like misshaped cotton balls. We both agreed that the clouds made the view more interesting.
We were back at camp by 4pm. Daylia wanted to learn how to start a fire, so with a little instruction from me, she did, and it was a good one! Especially because its smoke helped clear our camp of some of the hordes of mosquitos. I made us coffee. By the way, how is it that my Goddaughter is old enough to want to drink coffee with me? Once again, I'm reminded of how fast the time flies, and how, in a seeming blink-of-an-eye a child is a young adult in the prime of her life. This reminds me that I have brought in a couple of gifts for Daylia. I give her a book that is a new favorite of mine, called The Gutsy Girl: Escapades for Your Life of Epic Adventure, by Caroline Paul, and also an Epic journal, with a few suggested prompts to help her reflect on her Epic life.
Next, I teach Daylia how to set up and start the camp stove, and she helps me make what we decide to call "Epic Island Lake Quesadillas," which were tortillas fried in lots of butter, and filled with pepper jack cheese, spicy green chiles and Ro*tel tomatoes. Daylia loves them and makes me feel like a world-class chef. I don't mean to brag, but they were quite delicious, in part because they were so hard-earned.
We enjoyed a lot of meaningful conversation, made s'mores that were also – you guessed it – Epic. We each roasted double marshmallows and added them to dark chocolate with almonds and graham crackers. We snarfed two Epic s'mores each, and then spied the Big Dipper and the North Star, before heading into the tent. My Fitbit indicated we had logged 14 miles and almost 400 flights of stairs. I told Daylia how epic she is, and told her the day was epic by anyone's standards, but especially mine. It would be a day I would never forget.
When we got nestled into the compact, 2-person tent, Daylia remarked, "This is a little cozy compared to what I'm used to." I had her right where I wanted her…very near to me. When I shared this tent with my oldest son, Wolf, last year on our mother-son rite of passage trip, he had said the same thing, as I made him snuggle into my right arm the way he had so many times over the years beginning when he was an infant. I didn't make Daylia cuddle with me, but it sure felt wonderful to have my Goddaughter so near to me.
We said good night, and I told my Daylia that I loved her, and that I was so proud of her, and that I wouldn't want to be anywhere with anyone else right now.
As we turned off our headlamps, I listened, and there was not a single sound. I think it was the most quiet night I've ever spent in a tent in the often-windy Wind Rivers.
I rose the next day at around 6am, started a fire to keep the mosquitos at bay. I made coffee for myself while looking at perfect morning reflections of Island Lake. Daylia slept soundly in the tent. For two hours, I sat and reflected on how blessed I am, and thanked God for all of the blessings in my life, while hearing only the songs of birds. I thought of Jerry and the boys, and of my parents, who first inspired me to get outside in Wind River Country. I thought of Wolf, who was in the same wilderness somewhere on Day 4 of his 30-day NOLS course, and wondered if he was up early too.
Daylia and I had a great hike out later in the morning, and right as we thought the adventure could not get any better, we spied a bullwinkle moose in the meadow after Upper Silas Lake, browsing on willows. It looked at us to make sure we weren't a threat, and for some moments, we watched the moose, and he watched us.
Here's a video I captured after descending our mountain:

Afterword:
On our drive back to Lander after our epic adventure, Daylia suggested we make our Epic Island Lake Quesadillas and show our families a slideshow of our photos and share about our adventure, which we will do tonight. I can't wait. I will let her tell the story.
Speaking of her version of the story, my helpful, wonderful, beautiful, adventurous, smart, interesting, courageous – and Epic – Goddaughter agreed to answer some questions for me. Those questions, and her responses, follow:
What all "firsts" did this trip include? 
It was my first time backpacking, hiking by, and seeing seven lakes that were new for me, climbing a mountain, starting a campfire, setting up and sleeping in a tent, seeing a moose while on foot, and eating epic rotel and green chile quesadillas.
What was the hardest part about this epic adventure?
The motivation to keep going was definitely the most difficult part. Doing all of those steep uphill and deep lunges was hard!
What were some other challenging aspects of this epic adventure for you?
Some really challenging aspects of the trip included the fear that I would disappoint myself and Shelli, or that I wasn't strong enough physically and mentally to make the further venture of climbing up a mountain. Some other mundane and obvious challenging aspects were sleeping in a forest, going bathroom in the woods, and the shooting pain in my butt (now buns of steel!) and ankles all the way up.
What was the most fun part of the adventure?
Our conversations, and I also gloried in the sights, and in eating the best quesadillas I've ever had (thank you again.)
What was the biggest surprise for you of this adventure?
I climbed a mountain!!!
What was your favorite part of the whole experience?
The best part was realizing that I'm so much stronger than I had thought. By (hesitatingly) saying Yes to the Island Lake adventure, the additional venture to Thumb Lake, and then up the mountain. I feel so self-fulfilled and happy to have accomplished something so much greater than what I thought possible. And I got to do so for my first time with Shelli, whose mountain climb to that particular peak was her first, too!
What was your favorite part about the mountain climb?
Seeing the view from above—all the lakes and mountains—was my favorite, but I also really loved coming down from the peak because it was so cold and windy up there!
Of all the nature and beauty you saw, what was the most beautiful sight you saw?
I actually really liked the Island Lake's view from our campsite. The glass lake with the tree and
mountain reflections was breathtaking. I also loved seeing all the lakes we'd backpacked past on top of the peak.
What was your favorite part about "camping?"
The campfire was so much fun! It was great roasting marshmallows for s'mores. I felt serene hearing the fire crackle, and watching the flame's glow.
What insight, or insights will you take from this adventure and epic experience?
If there's something you so badly want to accomplish or experience but fear begins to overtake you, just say Yes and go for that adventure. You'll live a much more fulfilling and exciting life, truly living the phrase, "carpe diem" – to seize the day.
Do you think you will be changed in some way as a result of this backpacking experience in the Wind Rivers? If so, how?
I feel stronger physically and emotionally. I never thought I'd be able to carry poles and a 32lb
backpack up a rocky mountain for 1.5-2 hours straight, nor did I emotionally feel up to it, with
exhaustion and the pressure to quit creeping over me.
Any advice for others who have never done anything like this?
Just go with it! You're definitely stronger than you think you are.
Anything else you'd like to add?
You can do anything through the motivation of a friend and mentor. Without the positive and
encouraging influence of a teacher, I never would have accomplished what I had that day.
FINAL NOTES:
I can provide unforgettable and meaningful custom adventures such as mother-son rite or passage trips, and other special occasion adventures similar to the one I provide my Goddaughter with. Email me if you'd like to discuss a wide range of possibilities.
If you'd like to read more about adventures and hikes in my beloved Wind River Mountains, you can check out a list of several headlines and articles HERE.
Categories:

Adventure, Family, Fitness, Life and Leadership, Travel

Tags:

epic adventure, epic backpacking, epic life, hiking, roaring fork, shelli johnson, silas canyon, thumb lake, wind river range

Comments:

0 Comments