July 24th, 2017
I love this little, simple flower. It is a beautiful flower. But it is its nature – its way of not trying to steal the show – that most causes me to find it beautiful.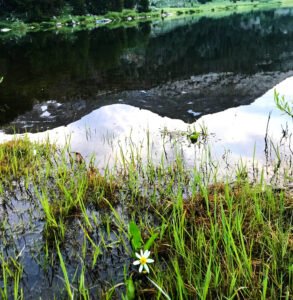 The fact the flower is not trying to win anyone over, not doing anything special other than being itself, is what wins us over. And notice that it is not surrounded by a bunch other flowers. Instead, it is as if it is choosing to not conform – to dare, and to choose to be where it is mostly likely to bloom, even its existence is a little lonely.
I love that this flower, and my chance encounter with it, helps me to articulate something I have been thinking a lot about.
If you are one of my friends, or part of my family, or if you read a recent blog post called Love on the Trail, then you know how I love looking for, and finding heart rocks on my hikes. What I've learned is that if I'm looking for heart rocks, I will find heart rocks.  
Similarly, since I first began thinking of small and unassuming wonders, I'm seeing them everywhere.
Small wonders, humble actions. Big impact. I'm talking about something or someone who is great and yet isn't trying to be great for the sake of being great. Something that may be hard to see, but beautiful when stumbled upon. A person's kind and generous gesture. Someone who is very busy, yet gives of his or her time. A leader who isn't out in the front. Someone who listens deeply. These humble acts and examples are impactful. I feel blessed when I notice them, and I don't forget them.
Some recent examples…
Last night, my family and I were lucky to be able to attend a presentation in our small town of Lander, WY, to meet the one and only Alex Honnold. Honnold recently free solo climbed Yosemite's El Capitan, and the presentation he shared with us was his first such presentation. At the beginning of his presentation, Honnold explained his early interest in rock climbing. As a child, he would watch, in wonder, as climbers scaled Yosemite's big walls. "I always thought it would be cool to be a small dot on a big wall," he explained.
Honnold is someone who accomplished something seemingly impossible, and yet he remains humble, and refreshingly human.
I was cleaning off the table that is a collection place for all of my adventure gear and clutter during this time of year. As I went to move a book I finished reading several months ago, I noticed a dog-eared page. Upon opening to the page, I read a quote I had underlined, by Terry Tempest Williams: "Wilderness is the antidote to the war within ourselves." Yes. I love the wilderness because it reminds me of my small place in the world while its wonders take the place of my sometimes war-like inner struggles.
During a recent epic day hike with my husband, we started so early that our first six miles were in the dark. For a long while, except for the occasional clicks of our trekking poles, there was not a single sound to be heard. But then, at 5:13am, we heard a single bird sing, and after that, several other birds of a great variety started singing and chirping. The forest was officially awake. You feel small, humbled, and yet so very alive all at once when in the wilderness.
I was recently friended on Facebook by a man I met in my CTI Coaches Training in 2011. Seeing his friend request made me recall the impression he had on me in just a single, 3-day course. He was quiet, but not shy. There's a subtle but important difference between shy and actively choosing to be quiet. This man is the latter. He didn't say very much during the entire three days of training, yet his presence was felt. When he did say something, everyone in the room leaned forward and hung on his every word. His words were carefully chosen, and his contributions valuable to us all.
Three days ago I was walking home from the Post Office, and I passed a woman. We made brief eye contact, and I smiled at her. She didn't smile back but she wasn't unfriendly. I thought she looked familiar, and after searching my memory during the next several blocks, it came to me. She was the "anonymous" woman who handed me a $100 cash donation in a hardware store some years back when I was fasting to help raise some money for the local food bank. She didn't want to give me her name, but insisted I take $100 of her money to give to someone who needed it. I was so moved by her generosity and humility and desire for no credit that I later wrote about it. I have never forgotten her, or that simple and generous and anonymous act of kindness. She, and her generosity and humility continue to inspire me.
A week ago I listened to a wonderful episode of Beautiful Writers podcast where Elizabeth Lesser was the guest. Lesser is the founder of the Omega Institute, and author of the wonderful Broken Open, a book I gift often to people I work with or know who are going through a difficult time. I highly recommend Broken Open, but I also enthusiastically recommend her latest book, Marrow, A Love Story, which is a memoir that is the story of two sisters uncovering the depth of their love through the life-and-death experience of a bone marrow transplant.
Speaking of humble impact, how about author Anne Lamott, one of my favorite writers. Lamott was a guest interviewer in the aforementioned podcast episode and, in the opening of the episode, refers to Lesser as amazing, and as being "quite the big cheese." To which, Lesser responds, "I don't actually believe in big cheese… We're all part of the same chunk of cheese. This idea that some of our lives are more big cheese-ish than others… I protest." Have I mentioned lately how much I admire humility?
Yesterday morning when I got up after an uncommon sleeping-in, I went downstairs and spied my husband, Jerry, outside on our back patio, drinking coffee and reading quietly. He didn't know I was watching, but I was inspired by the peace that was over him, and I admired him, and his stillness.  
Speaking of stillness and flowers, I am writing a poem about my very favorite alpine wildflower, the Forget Me Not. It is, in my humble opinion, the most beautiful and "humble" flower in the world. It grows near mountain tops, in very exposed and often windy locations. The flowers are tiny, and they grow in bunches of perfect little bright, bold blue flowers, that appear to snuggle the Earth below them.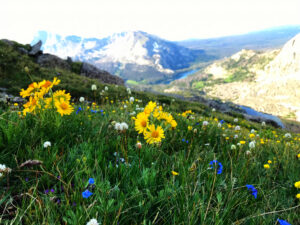 Forget Me Nots are so humble that their scent disappears during the day. You can only smell the flower at night. When glanced at amidst a field of flowers that is home to larger, bolder flowers, Forget Me Nots can be hard to spot, and as a result, maybe even unspectacular. But when looked at individually, Forget Me Nots are perfect in their beauty, brightness, small size, and simplicity.  While the flower is stunning, its resilience, relative "silence," and humble impact make me love it even more.
I think it's ironic that this favorite flower of mine is called the Forget Me Not, because for me, everything about it is so utterly unforgettable.
Thank you so much for reading. It means a lot to me!